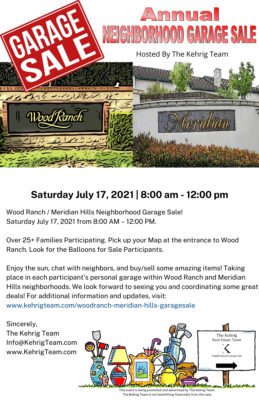 CLICK HERE TO DOWNLOAD A PRINTABLE MAP/LIST OF HOMES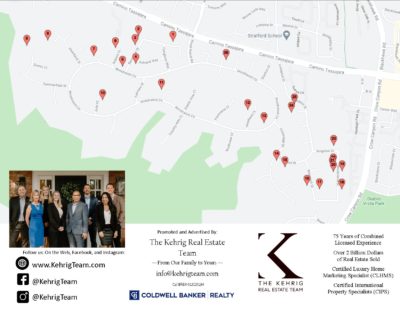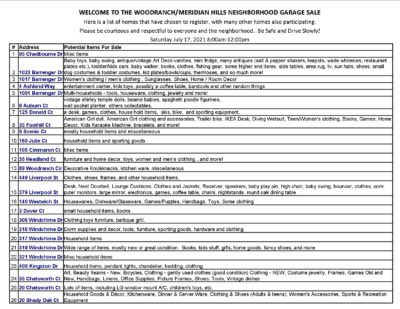 Pick up printed maps at the entrance to Wood Ranch Neighborhood
Look for the Balloons for all Sale Participants.
#
Address
Items For Sale
1
95 Chadbourne Dr
Misc Items
2
1023 Barrenger Dr
Baby toys, baby swing, antique/vintage Art Deco vanities, mini fridge, many antiques (salt & pepper shakers, teapots, wade whimsies, restaurant plates etc.), toddler/kids cars, baby walker, books, clothes, fishing gear, some higher end items, side tables, area rug, tv, sun hats, shoes, small dog costumes & toddler costumes, kid plates/bowls/cups, thermoses, and so much more!
3
1017 Barrenger Dr
Women's clothing / men's clothing , Sunglasses, Shoes, Home / Room Decor
4
4 Ashland Way
entertainment center, kids toys, possibly a coffee table, barstools and other random things
5
1001 Barrenger Dr
Multi-households – tools, houseware, clothing, jewelry and more!
6
9 Auburn Ct
vintage shirley temple dolls, beanie babies, spaghetti poodle figurines,
wall pocket planter. others collectables.
7
125 Donald Ct
a desk, games, clothes, house hold items,  skis, bike,  and sporting equipment.
8
35 Foothill Ct
American Girl doll, American Girl clothing and accessories, Trailer bike, IKEA Desk, Diving Wetsuit, Teen/Women's clothing, Books, Games, Home Decor, Kids Karaoke Machine, bracelets, and more!
9
9 Scenic Ct
mostly household items and miscellaneous
10
160 Julie Ct
household items and sporting goods
11
105 Cimmaron Ct
Misc Items
12
35 Headland Ct
furniture and home decor, toys, women and men's clothing…and more!
13
89 Woodranch Cir
Decorative Knickknacks, kitchen ware, miscellaneous
14
449 Liverpool St
Clothes, shoes, frames, and other household items.
15
379 Liverpool St
Desk, Nest Doorbell, Lounge Cushions, Clothes and Jackets, Receiver, speakers, baby play pin, high chair, baby swing, bouncer, clothes, computer monitors, large mirror, electronics, games, coffee table, chairs, nightstands, round oak dining table
16
140 Westwich St
Housewares, Dishware/Glassware, Games/Puzzles, Handbags, Toys, Some clothing
17
3 Dover Ct
small household items, books
18
306 Windchime Dr
Clothing toys furniture, barbque grill,
19
316 Windchime Dr
Dorm supplies and decor, tools, furniture, sporting goods, hardware and clothing.
20
317 Windchime Dr
Household Items
21
319 Windchime Dr
Wide range of items, mostly new or great condition.  Books, kids stuff, gifts, home goods, fancy shoes, and more
22
321 Windchime Dr
Misc household items
23
400 Kingston Dr
Household items, pendant lights, chandelier, bedding, clothing
24
35 Chatsworth Ct
Art, Beauty Iteams – New, Bicycles, Clothing – gently used clothes (good condition) Clothing – NEW, Costume jewelry, Frames, Games Old and New, Handbags, Linens, Office Supplies, Picture Frames, Shoes, Tools, Vintage dishes
25
20 Chatsworth Ct
Lots of items, including LG window mount A/C, children's toys, etc.
26
20 Shady Oak Ct
Household Goods & Décor, Kitchenware, Dinner & Server Ware, Clothing & Shoes (Adults and teens), Women's Accessories, Sports & Recreation Equipment
Wood Ranch / Meridian Hills Neighbors
Registration for map/list is closed. If you would like to still participate, please feel free to open up your garage and put out your sell items.