Annual Wood Ranch / Meridian Hills / Belleterre Neighborhood Garage Sale!
Saturday, July 23rd, 2022
8:00am – 12:00pm
Over 35+ Families Participating. Pick up your physical map and list of participants on Saturday at 2 locations. At the entrance to Wood Ranch (19 Woodranch Cir, Danville, CA) or at the corner of Camino Tassajara and Old Blackhawk Rd. Look for the Kehrig Team pop up tent at both locations. All sales participants will have balloons to mark there locations.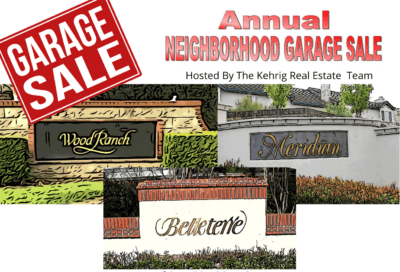 Online Virtual Map of Event
with items for sale in description
View Neighborhood Garage Sale 7-23-2022  in a full screen map
Scan QR for virtual map on your mobile device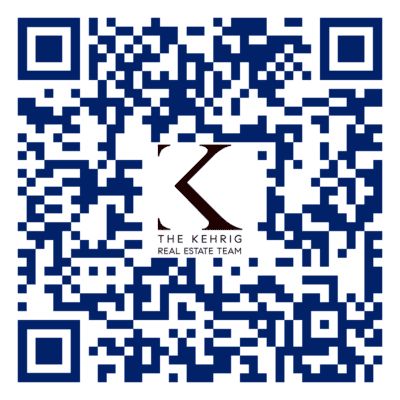 or visit
https://batchgeo.com/map/KehrigTeamGarageSale-7-23-22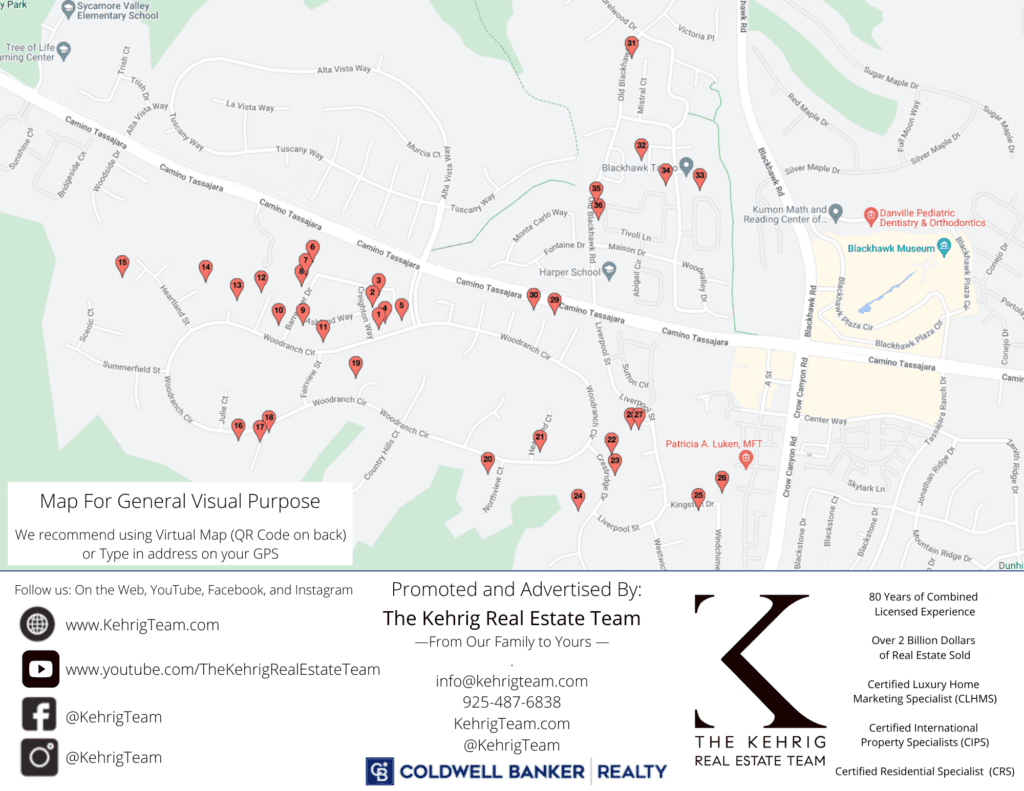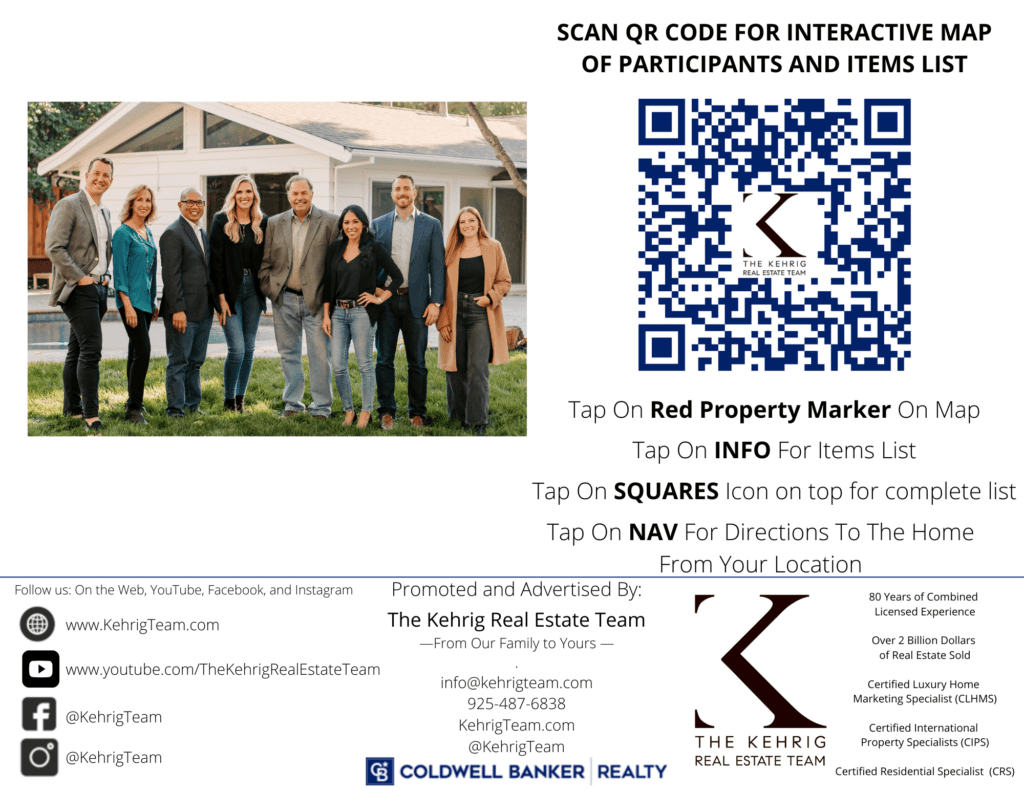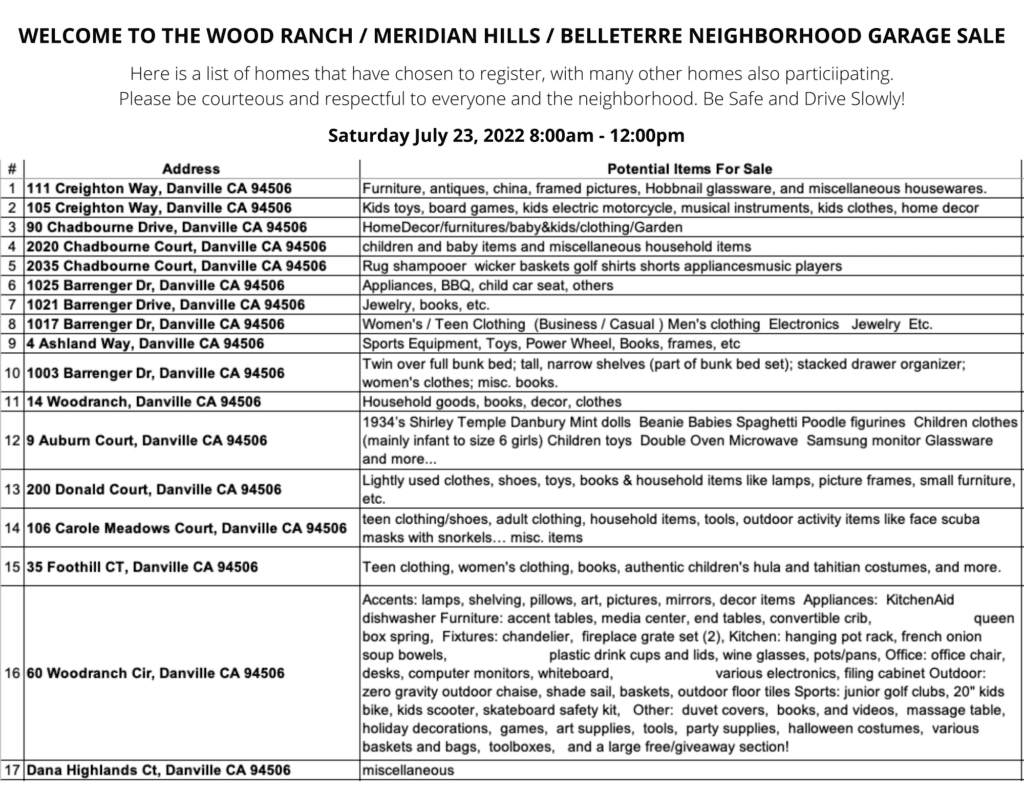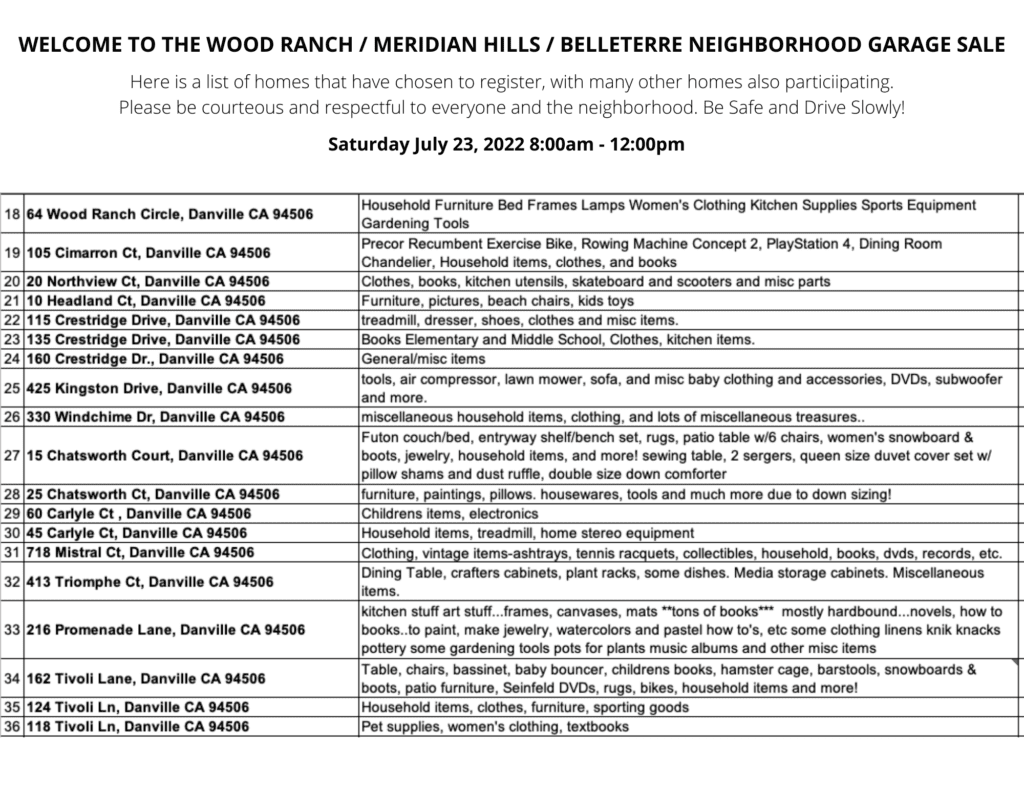 Click on link below
to download a printable PDF Map/List Flyer
Wood Ranch / Meridian Hills / Belleterre Neighbors
Registration for map/list is closed. If you would like to still participate, please feel free to open up your garage and put out your sell items on Saturday.

CURRENT PARTICIPANTS
as of 7/19/2022
(Do Not Disturb Homeowners Prior To Event)
Address
Potential Items For Sale
10 Headland Ct
Furniture, pictures, beach chairs, kids toys

1003 Barrenger Dr

Twin over full bunk bed; tall, narrow shelves (part of bunk bed set); stacked drawer organizer; women's clothes; misc. books.

1017 Barrenger Dr

Women's / Teen Clothing
(Business / Casual )
Men's clothing
Electronics
Jewelry
Etc.

1021 Barrenger Dr

Jewelry, books, etc.

1025 Barrenger Dr

Appliances, BBQ, child car seat, others

105 Cimarron Ct

Precor Recumbent Exercise Bike, Rowing Machine Concept 2, PlayStation 4, Dining Room Chandelier, Household items, clothes, and books

105 Creighton Way

Kids toys, board games, kids electric motorcycle, musical instruments, kids clothes, home decor

106 Carole Meadows Court

teen clothing/shoes, adult clothing, household items, tools, outdoor activity items like face scuba masks with snorkels… misc. items

111 Creighton Way

Furniture, antiques, china, framed pictures, Hobbnail glassware, and miscellaneous housewares.

115 Crestridge Drive

treadmill, dresser, shoes, clothes and misc items.

118 Tivoli Ln

Pet supplies, women's clothing, textbooks

124 Tivoli Ln

Household items, clothes, furniture, sporting goods

135 Crestridge Drive

Books Elementary and Middle School, Clothes, kitchen items.

14 Woodranch

Household goods, books, decor, clothes

15 Chatsworth Court

Futon couch/bed, entryway shelf/bench set, rugs, patio table w/6 chairs, women's snowboard & boots, jewelry, household items, and more! sewing table, 2 sergers, queen size duvet cover set w/ pillow shams and dust ruffle, double size down comforter

162 Tivoli Lane

Table, chairs, bassinet, baby bouncer, childrens books, hamster cage, barstools, snowboards & boots, patio furniture, Seinfeld DVDs, rugs, bikes, household items and more!

200 Donald Court

Lightly used clothes, shoes, toys, books & household items like lamps, picture frames, small furniture, etc.

2035 Chadbourne Court

Rug shampooer  wicker baskets golf shirts shorts appliances music players

216 Promenade Lane

kitchen stuff
art stuff…frames, canvases, mats
**tons of books***  mostly hardbound…novels, how to books..to paint, make jewelry, watercolors and pastel how to's, etc
some clothing
linens
knik knacks
pottery
some gardening tools
pots for plants
music albums
and other misc items

25 Chatsworth Ct

furniture, paintings, pillows. housewares, tools and much more due to down sizing!

330 Windchime Dr

miscellaneous household items, clothing,
and lots of miscellaneous treasures..

35 FOOTHILL CT

Teen clothing, women's clothing, books, authentic children's hula and tahitian costumes, and more.

4 Ashland Way

Sports Equipment, Toys, Power Wheel, Books, frames, etc

413 Triomphe CT

Dining Table, crafters cabinets, plant racks, some dishes. Media storage cabinets. Miscellaneous items.

425 Kingston Drive

tools, air compressor, lawn mower, sofa, and misc baby clothing and accessories, DVDs, subwoofer and more.

45 Carlyle Court

Household items, treadmill, home stereo equipment

60 Carlyle Ct

Childrens items, electronics

60 Woodranch Cir

Accents: lamps, shelving, pillows, art, pictures, mirrors, decor items
Appliances:  KitchenAid dishwasher
Furniture: accent tables, media center, end tables, convertible crib,
queen box spring,
Fixtures: chandelier,  fireplace grate set (2),
Kitchen: hanging pot rack, french onion soup bowels,
plastic drink cups and lids, wine glasses, pots/pans,
Office: office chair, desks, computer monitors, whiteboard,
various electronics, filing cabinet
Outdoor: zero gravity outdoor chaise, shade sail, baskets, outdoor floor tiles
Sports: junior golf clubs, 20″ kids bike, kids scooter, skateboard safety kit,Other:
duvet covers,
books, and videos,
massage table,
holiday decorations,
games,
art supplies,
tools,
party supplies,
halloween costumes,
various baskets and bags,
toolboxes,and a large free/giveaway section!

64 Wood Ranch Circle

Household Furniture
Bed Frames
Lamps
Women's Clothing
Kitchen Supplies
Sports Equipment
Gardening Tools

718 Mistral Ct

9 Auburn Court

1934's Shirley Temple Danbury Mint dolls
Beanie Babies
Spaghetti Poodle figurines
Children clothes (mainly infant to size 6 girls)
Children toys
Double Oven
Microwave
Samsung monitor
Glassware
and more…

90 Chadbourne Drive

HomeDecor/furnitures/baby&kids/clothing/Garden

Dana Highlands Ct

miscellaneous