Annual Wood Ranch / Meridian Hills / Belleterre Neighborhood Garage Sale in Danville!

Currently over 30+ Families Participating.
Pick up your physical map and list of items for sale on Saturday at 2 locations
At the entrance to Woodranch
19 Woodranch Cir, Danville CA 94526
or
At the corner of Camino Tassajara and Old Blackhawk Rd.
Look for The Kehrig Team pop up tents.
All sales participants will have balloons to mark their locations.
Enjoy the sun, chat with neighbors, and buy/sell some amazing items! Taking place in each participant's personal garage within Woodranch, Meridian Hills, and Belleterre neighborhoods. We look forward to seeing you and coordinating some great deals!
VIRTUAL INTERACTIVE MAP
View Neighborhood Garage Sale – Danville CA in a full screen map
CLICK ON LINK BELOW FOR A PRINTABLE MAP / FLYER
Woodranch, Meridian Hills, Belleterre Neighborhoods Garage Sale – The Kehrig Team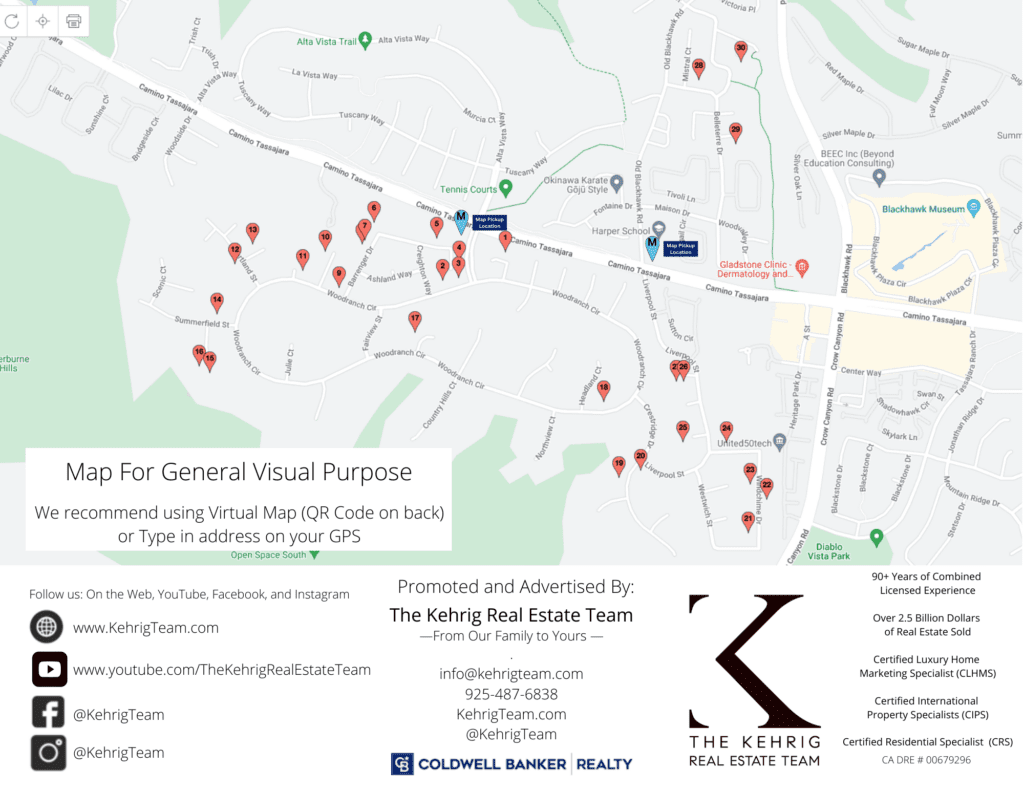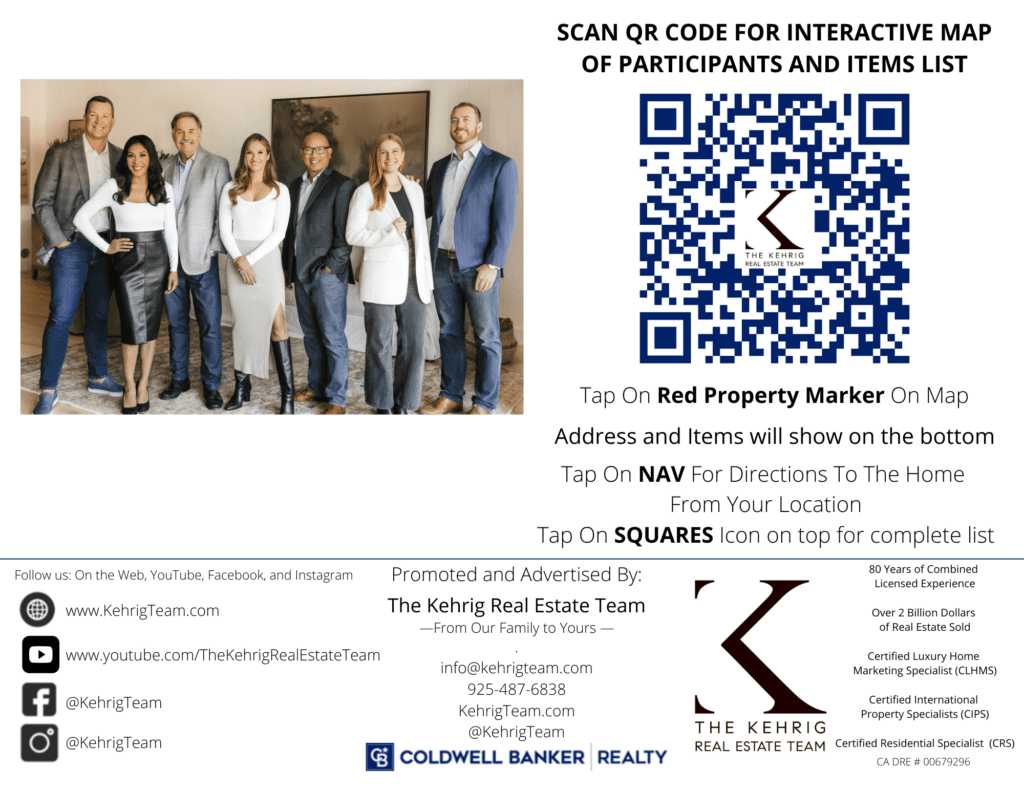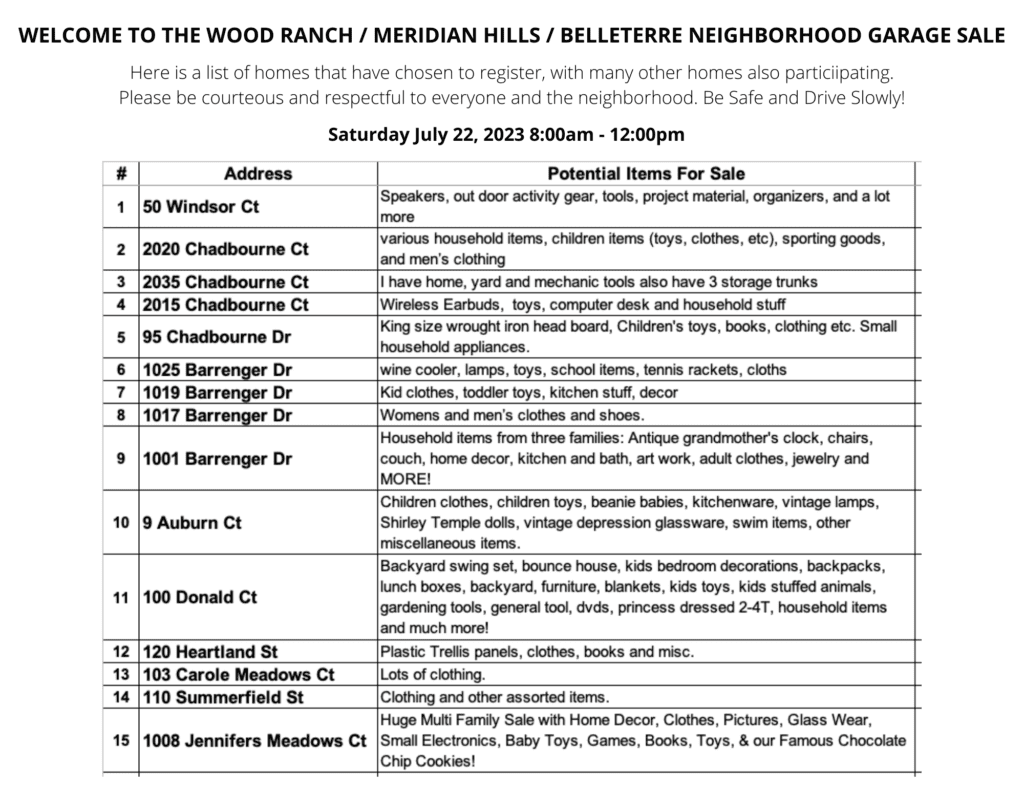 CURRENT PARTICIPANTS
as of 7/20/2023
(Do Not Disturb Homeowners Prior To Event)
Address
Potential Items For Sale
100 Donald Ct
Backyard swing set, bounce house, kids bedroom decorations, backpacks, lunch boxes, backyard, furniture, blankets, kids toys, kids stuffed animals, gardening tools, general tool, dvds, princess dressed 2-4T, household items and much more!
1001 Barrenger Drive
Household items from three families: Antique grandmother's clock, chairs, couch, home decor, kitchen and bath, art work, adult clothes, jewelry and MORE!
1006 Jennifers Meadows Court
Ladder platform 60.00, Baby gates 20.00, 2x Military water, cans 10.00, Stainless steel bin 10.00
2 x red bar stools 40.00
1008 Jennifers Meadows Ct
Huge Multi Family Sale with Home Decor, Clothes, Pictures, Glass Wear, Small Electronics, Baby Toys, Games, Books, Toys, & our Famous Chocolate Chip Cookies!
1017 Barrenger Dr
Womens and men's clothes and shoes.
1019 barrenger Drive
Kid clothes, toddler toys, kitchen stuff, decor
1022 Belleterre Dr.
Miscellaneous toys including wii rock band set, nerf, small furniture, adult clothing, holiday ornaments and other miscellaneous items.
1025 Barrenger Dr
wine cooler, lamps, toys, school items, tennis rackets, cloths
103 Carole Meadows Court
Lots of clothing.
105 Cimarron Court
Tons of clothing for men and women. Household items, decorative items, window treatments, books, electronics, tv's, and more!
110 Summerfield St
Clothing and other assorted items.
120 Heartland Street
Plastic Trellis panels, clothes, books and misc.
15 Chatsworth Court
Adult clothing and shoes, men's and women's cycling/triathlon kits, cycling shoes, kids clothes (infant and toddler), toys, assorted housewares, women's snowboard with bindings and more.
180 Crestridge Drive
Downsizing – everything must go!  Furniture, kitchen items, clothes, luggage and much more!
2015 Chadbourne Court
Wireless Earbuds,  toys, computer desk and household stuff
2020 Chadbourne Court
various household items, children items (toys, clothes, etc), sporting goods, and men's clothing
2035 Chadbourne Ct
I have home, yard and mechanic tools also have 3 storage trunks
25 Chatsworth Ct
Moving sale…fish tank, tire swing, outdoor recliner with cushion, outdoor pots and much more
303 Bonaire Court
Misc.
305 Windchime Dr.
Children's clothes, books, house hold goods, kids bike, scooters, board games, shoes
314 Windchime Drive
Excellent Furniture, Sofa, Dining room set, Home Goods and Kids Toys
319 Windchime Drive
Household everything
35 Weatherly Ct
Two Pottery Barn quilts, two piano benches, old but working Harmon Kardon receiver, three new 2'x3' Tibetan (Tahoe looking) rugs, 40" Samsung TV, clothes, and misc.
430 Kingston Dr
Kids games, toys, furniture
449 Liverpool Street
Women's and men's clothes, shoes, household items.  Leaf blower/vacuum.
50 Windsor Court
Speakers, out door activity gear, tools, project material, organizers, and a lot more
611 Ambience Way
Multi-household:  Decorative items/kitchen/household items; Tons of quality clothing for Men/women/infant/  shoes; Designer purses (Coach) misc.(kid's bike; Hoverboard etc).  MOST everything priced under $10 (at give-away prices)! No early birds- small bills please.
87 Woodranch Circle
some random pieces of furniture, clothing, home goods and books.
9 Auburn Court
Children clothes, children toys, beanie babies, kitchenware, vintage lamps, Shirley Temple dolls, vintage depression glassware, swim items, other miscellaneous items.
95 Chadbourne Drive
King size wrought iron head board, Children's toys, books, clothing etc. Small household appliances.
Woodranch, Meridian Hills, Belleterre Neighbors
Registration for map/list is closed. If you would like to still participate, please feel free to open up your garage and put out your sell items on Saturday.