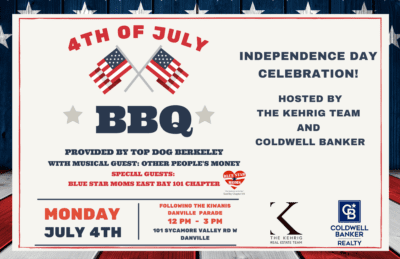 🇺🇸 Come join us after the Kiwanis Club Danville, CA 4th of July Parade and continue to celebrate Independence Day! 🎉
-HOSTED BY: The Kehrig Team, and Coldwell Banker Realty
-LOCATION: 101 Sycamore Valley Rd W, Danville
-DATE AND TIME: Monday July 4th – 12PM – 3PM
-FOOD CATERED BY: Top Dog
-MUSIC GUEST: Other People's Money
-SPECIAL GUEST: East Bay Blue Star Moms
Family friendly event | Open to everyone
We hope to see you there!
For more Info on The Danville 4th of July Parade visit: https://www.srvkiwanis.org/parade
•
The Kiwanis-Danville Parade will take place on Monday, July 4th, 2022 from 9am-noon in downtown Danville, California.
This year's parade theme is Celebrating our local Olympians to recognize our local community members who have taken part in the Olympic movement.
The Kiwanis Club of San Ramon Valley has organized and conducted the annual Kiwanis 4th of July Parade in partnership with the Town of Danville since 1975. The parade attracts 30,000-40,000 spectators each year and is a wonderful opportunity for the community to come together and celebrate America's birth.
•
#DanvilleParade #4thOfJuly #FamilyFun #Community #HappyIndependenceDay #Kiwanis #DowntownDanville #DanvilleLiving #OtherPeoplesMoney #TopDog #BlueStarMoms #KehrigTeamCares #KehrigTeam #ColdwellBankerDanville #ColdwellBankerBlackhawk #DanvilleParade2022