Annual Tassajara Ranch / Vista Tassajara and Lawrence Road Neighborhood Garage Sale!
Saturday, July 30th, 2022
8:00am – 12:00pm
Currently over 55+ Families Participating. Pick up your physical map and list of participants on Saturday at 3 locations.
At the entrance to Tassajara Ranch (corner of Tassajara Ranch Dr and Mountain Ridge Dr) or
at the entrance to Vista Tassajara (corner of Parkhaven Dr and Lakefield Ct) and
at the corner of Camino Tassajara and Lawrence Rd.
Look for the Kehrig Team pop up tent at all locations.
All sales participants will have balloons to mark there locations.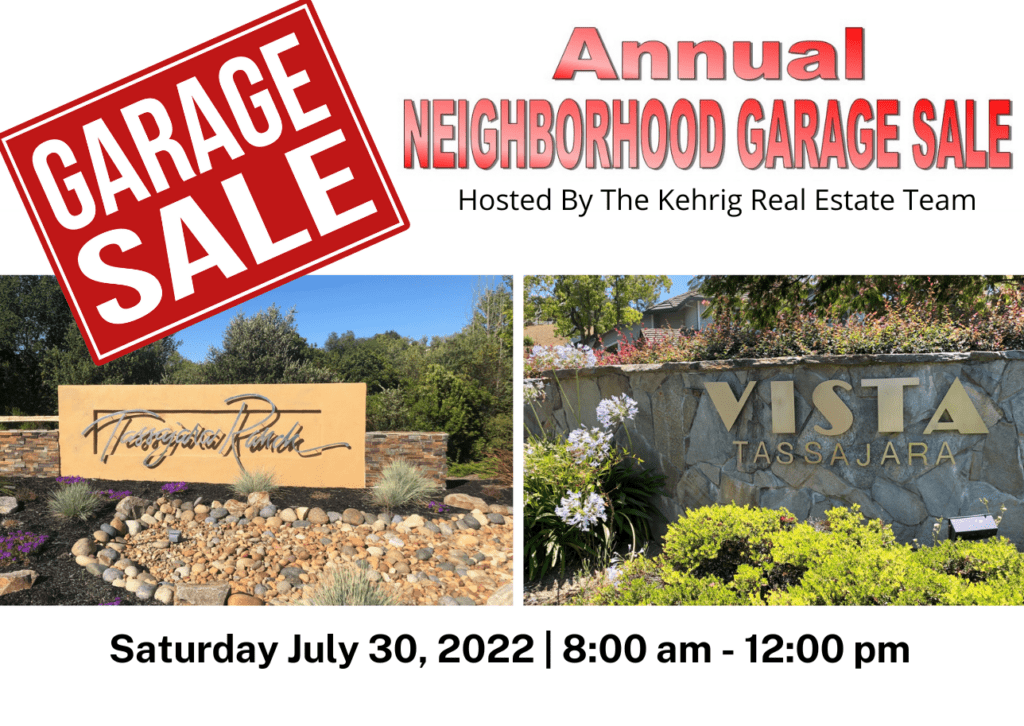 View Tassajara Area Neighborhood Garage Sale in a full screen map
Scan QR for virtual map on your mobile device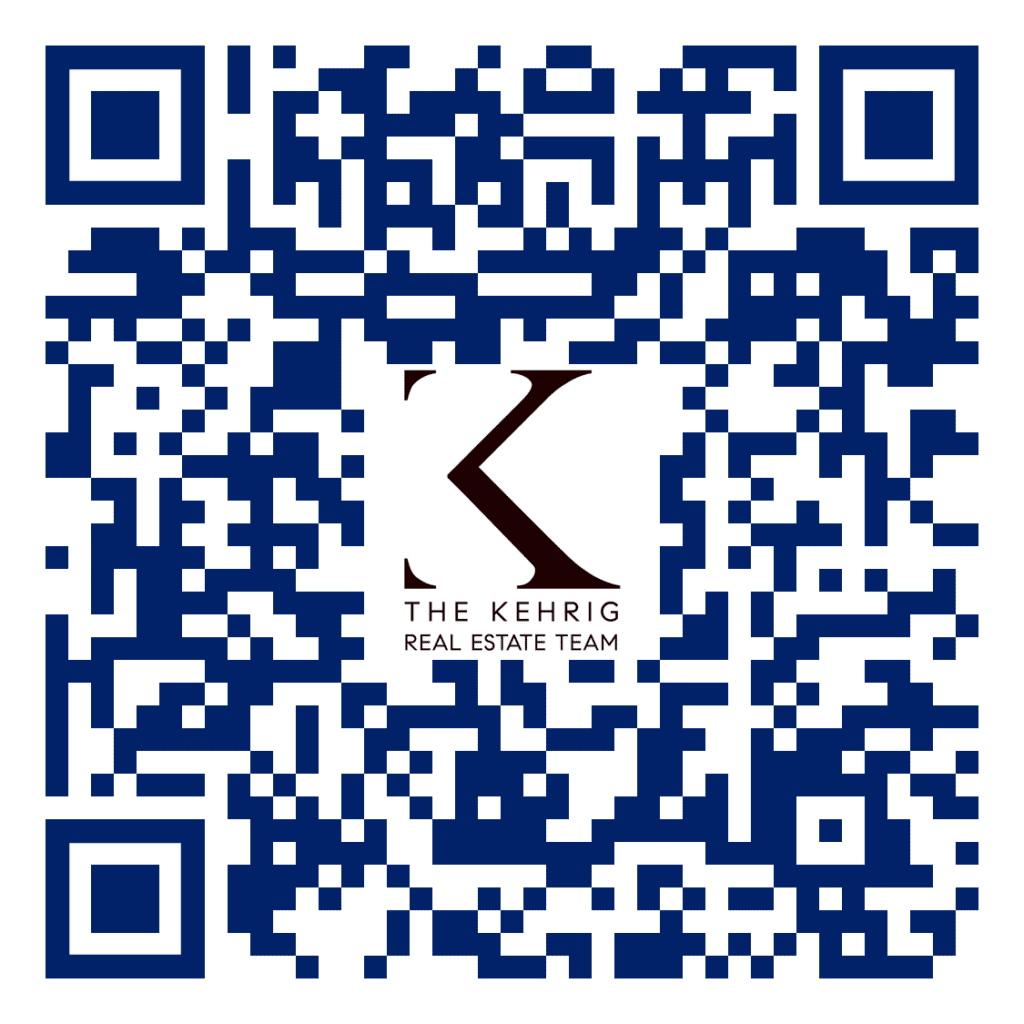 or visit
https://batchgeo.com/map/tassajaragaragesale2022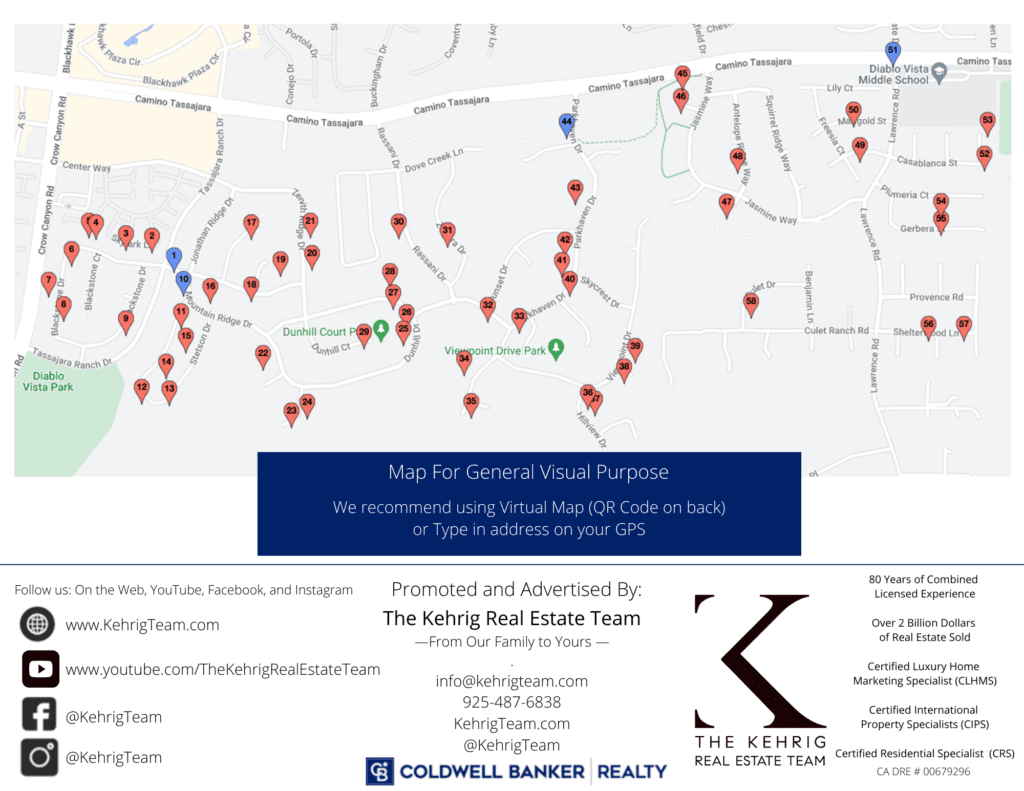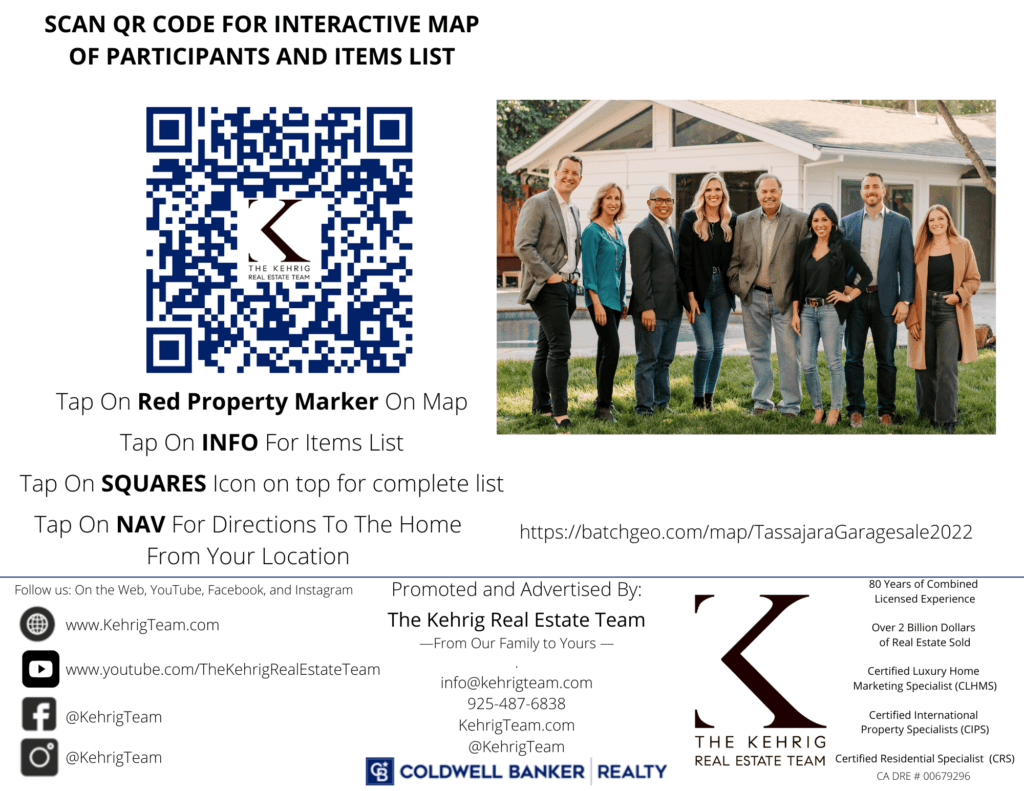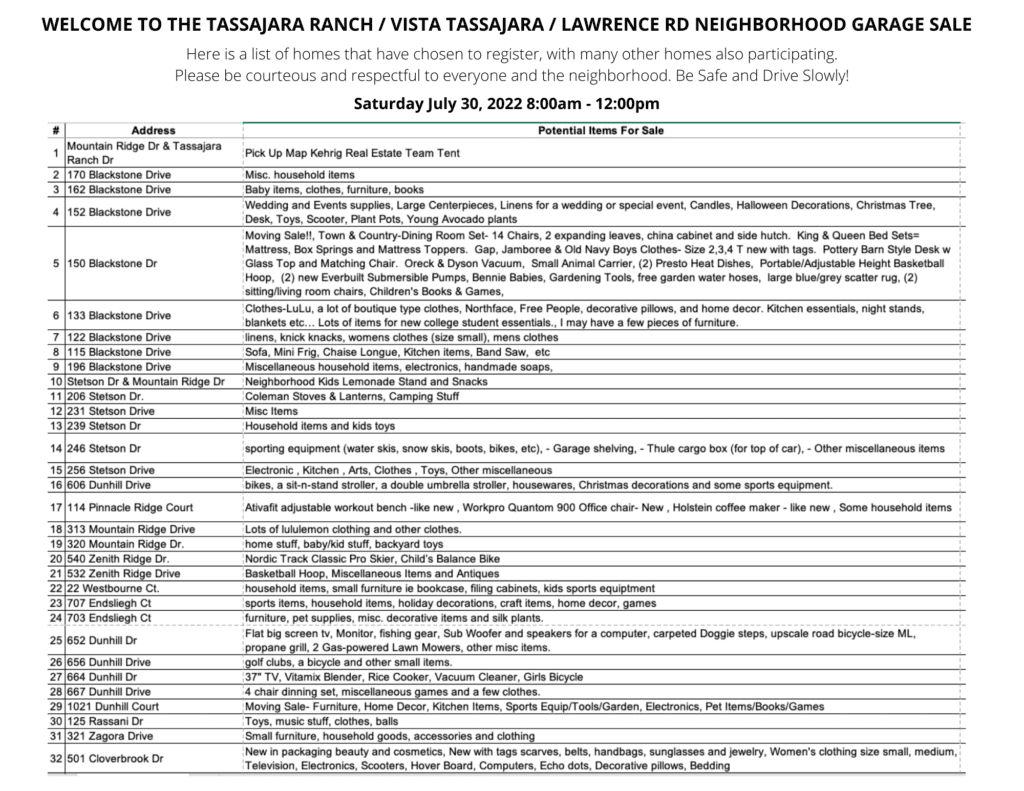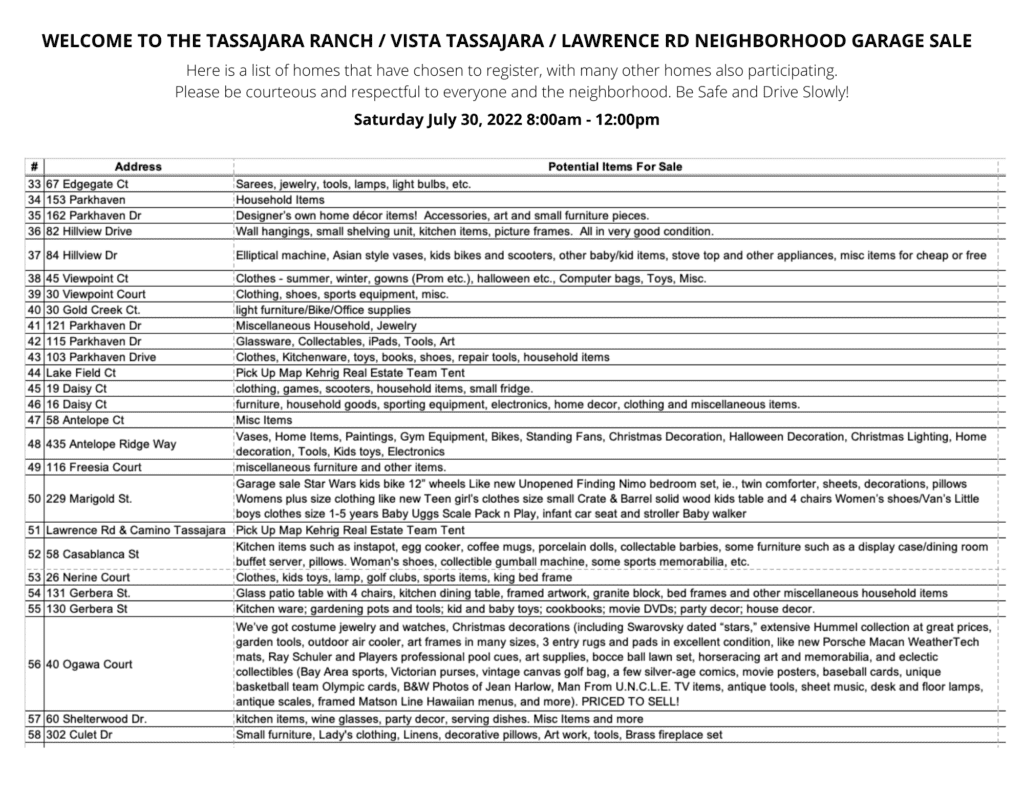 Click on link below
to download a printable PDF Map/List Flyer
Kehrig Team Tassajara Area Garage Sale 2022 Map-Flyer
Tassajara Ranch / Vista Tassajara / Lawrence Rd Neighbors
Registration for map/list is closed. If you would like to still participate, please feel free to open up your garage and put out your sell items on Saturday.
CURRENT PARTICIPANTS
as of 7/29/2022
(Do Not Disturb Homeowners Prior To Event)
| | | |
| --- | --- | --- |
| # | Address | Potential Items For Sale |
| 1 | Mountain Ridge Dr & Tassajara Ranch Dr | Pick Up Map Kehrig Real Estate Team Tent |
| 2 | 170 Blackstone Drive | Misc. household items |
| 3 | 162 Blackstone Drive | Baby items, clothes, furniture, books |
| 4 | 152 Blackstone Drive | Wedding and Events supplies, Large Centerpieces, Linens for a wedding or special event, Candles, Halloween Decorations, Christmas Tree, Desk, Toys, Scooter, Plant Pots, Young Avocado plants |
| 5 | 150 Blackstone Dr | Moving Sale!!, Town & Country-Dining Room Set- 14 Chairs, 2 expanding leaves, china cabinet and side hutch.  King & Queen Bed Sets= Mattress, Box Springs and Mattress Toppers.  Gap, Jamboree & Old Navy Boys Clothes- Size 2,3,4 T new with tags.  Pottery Barn Style Desk w Glass Top and Matching Chair.  Oreck & Dyson Vacuum,  Small Animal Carrier, (2) Presto Heat Dishes,  Portable/Adjustable Height Basketball Hoop,  (2) new Everbuilt Submersible Pumps, Bennie Babies, Gardening Tools, free garden water hoses,  large blue/grey scatter rug, (2) sitting/living room chairs, Children's Books & Games, |
| 6 | 133 Blackstone Drive | Clothes-LuLu, a lot of boutique type clothes, Northface, Free People, decorative pillows, and home decor. Kitchen essentials, night stands, blankets etc… Lots of items for new college student essentials., I may have a few pieces of furniture. |
| 7 | 122 Blackstone Drive | linens, knick knacks, womens clothes (size small), mens clothes |
| 8 | 115 Blackstone Drive | Sofa, Mini Frig, Chaise Longue, Kitchen items, Band Saw,  etc |
| 9 | 196 Blackstone Drive | Miscellaneous household items, electronics, handmade soaps, |
| 10 | Stetson Dr & Mountain Ridge Dr | Neighborhood Kids Lemonade Stand and Snacks |
| 11 | 206 Stetson Dr. | Coleman Stoves & Lanterns, Camping Stuff |
| 12 | 231 Stetson Drive | No Items Listed – Misc Items |
| 13 | 239 Stetson Dr | Household items and kids toys |
| 14 | 246 Stetson Dr | sporting equipment (water skis, snow skis, boots, bikes, etc), – Garage shelving, – Thule cargo box (for top of car), – Other miscellaneous items |
| 15 | 256 Stetson Drive | Electronic , Kitchen , Arts, Clothes , Toys, Other miscellaneous |
| 16 | 606 Dunhill Drive | bikes, a sit-n-stand stroller, a double umbrella stroller, housewares, Christmas decorations and some sports equipment. |
| 17 | 114 Pinnacle Ridge Court | Ativafit adjustable workout bench -like new , Workpro Quantom 900 Office chair- New , Holstein coffee maker – like new , Some household items |
| 18 | 313 Mountain Ridge Drive | Lots of lululemon clothing and other clothes. |
| 19 | 320 Mountain Ridge Dr. | home stuff, baby/kid stuff, backyard toys |
| 20 | 540 Zenith Ridge Dr. | Nordic Track Classic Pro Skier, Child's Balance Bike |
| 21 | 532 Zenith Ridge Drive | Basketball Hoop, Miscellaneous Items and Antiques |
| 22 | 22 Westbourne Ct. | household items, small furniture ie bookcase, filing cabinets, kids sports equiptment |
| 23 | 707 Endsliegh Ct | sports items, household items, holiday decorations, craft items, home decor, games |
| 24 | 703 Endsliegh Ct | furniture, pet supplies, misc. decorative items and silk plants. |
| 25 | 652 Dunhill Dr | Flat big screen tv, Monitor, fishing gear, Sub Woofer and speakers for a computer, carpeted Doggie steps, upscale road bicycle-size ML, propane grill, 2 Gas-powered Lawn Mowers, other misc items. |
| 26 | 656 Dunhill Drive | golf clubs, a bicycle and other small items. |
| 27 | 664 Dunhill Dr | 37″ TV, Vitamix Blender, Rice Cooker, Vacuum Cleaner, Girls Bicycle |
| 28 | 667 Dunhill Drive | 4 chair dinning set, miscellaneous games and a few clothes. |
| 29 | 1021 Dunhill Court | Moving Sale- Furniture, Home Decor, Kitchen Items, Sports Equip/Tools/Garden, Electronics, Pet Items/Books/Games |
| 30 | 125 Rassani Dr | Toys, music stuff, clothes, balls |
| 31 | 321 Zagora Drive | Small furniture, household goods, accessories and clothing |
| 32 | 501 Cloverbrook Dr | New in packaging beauty and cosmetics, New with tags scarves, belts, handbags, sunglasses and jewelry, Women's clothing size small, medium, Television, Electronics, Scooters, Hover Board, Computers, Echo dots, Decorative pillows, Bedding |
| 33 | 67 Edgegate Ct | Sarees, jewelry, tools, lamps, light bulbs, etc. |
| 34 | 153 Parkhaven | Household Items |
| 35 | 162 Parkhaven Dr | Designer's own home décor items!  Accessories, art and small furniture pieces. |
| 36 | 82 Hillview Drive | Wall hangings, small shelving unit, kitchen items, picture frames.  All in very good condition. |
| 37 | 84 Hillview Dr | Elliptical machine, Asian style vases, kids bikes and scooters, other baby/kid items, stove top and other appliances, misc items for cheap or free |
| 38 | 45 Viewpoint Ct | Clothes – summer, winter, gowns (Prom etc.), halloween etc., Computer bags, Toys, Misc. |
| 39 | 30 Viewpoint Court | Clothing, shoes, sports equipment, misc. |
| 40 | 30 Gold Creek Ct. | light furniture/Bike/Office supplies |
| 41 | 121 Parkhaven Dr | Miscellaneous Household, Jewelry |
| 42 | 115 Parkhaven Dr | Glassware, Collectables, iPads, Tools, Art |
| 43 | 103 Parkhaven Drive | Clothes, Kitchenware, toys, books, shoes, repair tools, household items |
| 44 | Lake Field Ct | Pick Up Map Kehrig Real Estate Team Tent |
| 45 | 19 Daisy Ct | clothing, games, scooters, household items, small fridge. |
| 46 | 16 Daisy Ct | furniture, household goods, sporting equipment, electronics, home decor, clothing and miscellaneous items. |
| 47 | 58 Antelope Ct | No Items Listed – Misc Items |
| 48 | 435 Antelope Ridge Way | Vases, Home Items, Paintings, Gym Equipment, Bikes, Standing Fans, Christmas Decoration, Halloween Decoration, Christmas Lighting, Home decoration, Tools, Kids toys, Electronics |
| 49 | 116 Freesia Court | miscellaneous furniture and other items. |
| 50 | 229 Marigold St. | Garage sale Star Wars kids bike 12" wheels Like new Unopened Finding Nimo bedroom set, ie., twin comforter, sheets, decorations, pillows Womens plus size clothing like new Teen girl's clothes size small Crate & Barrel solid wood kids table and 4 chairs Women's shoes/Van's Little boys clothes size 1-5 years Baby Uggs Scale Pack n Play, infant car seat and stroller Baby walker |
| 51 | Lawrence Rd & Camino Tassajara | Pick Up Map Kehrig Real Estate Team Tent |
| 52 | 58 Casablanca St | Kitchen items such as instapot, egg cooker, coffee mugs, porcelain dolls, collectable barbies, some furniture such as a display case/dining room buffet server, pillows. Woman's shoes, collectible gumball machine, some sports memorabilia, etc. |
| 53 | 26 Nerine Court | Clothes, kids toys, lamp, golf clubs, sports items, king bed frame |
| 54 | 131 Gerbera St. | Glass patio table with 4 chairs, kitchen dining table, framed artwork, granite block, bed frames and other miscellaneous household items |
| 55 | 130 Gerbera St | Kitchen ware; gardening pots and tools; kid and baby toys; cookbooks; movie DVDs; party decor; house decor. |
| 56 | 40 Ogawa Court | We've got costume jewelry and watches, Christmas decorations (including Swarovsky dated "stars," extensive Hummel collection at great prices, garden tools, outdoor air cooler, art frames in many sizes, 3 entry rugs and pads in excellent condition, like new Porsche Macan WeatherTech mats, Ray Schuler and Players professional pool cues, art supplies, bocce ball lawn set, horseracing art and memorabilia, and eclectic collectibles (Bay Area sports, Victorian purses, vintage canvas golf bag, a few silver-age comics, movie posters, baseball cards, unique basketball team Olympic cards, B&W Photos of Jean Harlow, Man From U.N.C.L.E. TV items, antique tools, sheet music, desk and floor lamps, antique scales, framed Matson Line Hawaiian menus, and more). PRICED TO SELL! |
| 57 | 60 Shelterwood Dr. | kitchen items, wine glasses, party decor, serving dishes. Misc Items and more |
| 58 | 302 Culet Dr | Small furniture, Lady's clothing, Linens, decorative pillows, Art work, tools, Brass fireplace set |